A Short History of AWS
In 2017, I registered "Awakening Spirit School" as a nonpublic school with the state of Minnesota. My proof-of-concept school operating budget was very low as a result of holding classes in the basement of my family home. Over the next two years, I was able to grow the student body from 3 to 7 enrolled children, grades K-8. Parents were beside themselves with gratitude. Students transformed into happy, healthy, self-confident learners. They now loved school.
During the 2019-2020 school year, word of "AWS" spread organically through the HSC community. Curious teachers and holistic practitioners began referring new students. It was then that I knew my proof-of-concept experiment had just about run its course. It was time to open a stand-alone, "Awakening Spirit School". Armed with a sound business plan and budget, a crystal-clear vision, a creative and enthusiastic staff and support team, and open lines of communication between families, staff and administration, we moved to a 15 acre property outside of Stillwater, MN.
Awakening Spirit School currently operates as a tuition-based homeschool cooperative.

Each family is registered as a homeschooling family with their home state of MN or WI.
AWS Years 1-3 (2017-2020)
I have been teaching for the past 15 years. My first position was as a founding teacher at the Minneapolis Academy charter school (90% free & reduced lunch, inner city Minneapolis). It was a dream opportunity for a first-year teacher to be able to design my classroom and curriculum from the ground up. The school launch and first three years of operation were hard work, educational, and extremely rewarding.
After leaving the public sector to raise and educate my own two HSC, I embraced the importance of simplicity, calm, rhythm and strong spiritual home life for young, highly sensitive children. I began writing guest blog posts for Simplicity Parenting community, and became known for gentle, responsive parenting and homeschooling advice.
A few years later I heard about the stress and anxiety that a friend's highly sensitive child had in the public school system. My friend's daughter was breaking down into tears every day. This little eight year old girl was a perfectionist- a rule follower who was so worried about the possibility of not getting the 'right answers' that she would be unable to do anything but cry. The classroom was loud and crowded. Her classmates made fun of her. Her teachers were frustrated that she couldn't just 'get over it'. She begged her mother to homeschool her, but her mom was a single parent and a business owner with no free time to do so. She refused to go to school. Their family needed an alternative. My heart ached for that child and I felt called to start my own microschool that would hear, see and value highly sensitive children who needed a change.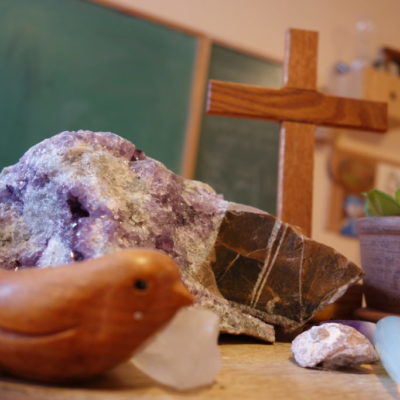 AWS Year 4 (2020-2021)
Our school was set to grow. My husband and I found the perfect location- a 15 acre property in the idyllic countryside of the Stillwater-Grant area. We purchased the home knowing that it would be a perfect meeting place for our microschool.
With the advent of COVID-19, interest in alternative education spiked. Families who were before 'just considering' homeschooling had impetus to take the leap. Our consciously-formed community of like-minded parents expanded from four families to ten, filling out our One Room Schoolhouse and starting our Mixed-Age Kindergarten Program.
Because we functioned as our own 'pandemic pod', we were able to continue meeting as an Educational Service in the state of MN throughout the public school shutdowns. Our kids, who would have suffered greatly in the world of masks, forced temperature checks, and social distancing thrived in our family-like community where we all took responsibility for each other's health and well-being.
Parents all have an active role in the school, volunteering to teach mini-lessons, be passion project mentors, chaperone our weekly field trips, organizing monthly family dinners, and using our Parent Room to do some work while their kids are learning.
AWS Future
We look forward to adding on to our offerings in Year 5+. We are preparing to launch both our Summer Camp as well as an Independent High School offering (Fall 2021). Students have been proposing, planning, and designing a school garden, as well as a chicken coop and small goat shed. They have plans for building a meditative walking labyrinth as well as an archery range.
I'm ready to truly bring the vision of a holistic, nature-based school community to life!
Amy Marotz, Founder and Director of AWS